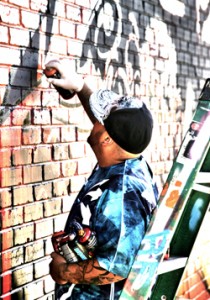 Wiser
(Co-founder/Lead Artist) – 
Born and raised in Denver, CO, Wiser first met Graffiti at the age of 9 when he saw "Beat Street" for the first time…his life was then set on a path in the ways of Hip Hop. For the past decade Wiser has been a professional artist with a range of specialties beyond graffiti including bodypainting and graphic design and he continues sharing his love of graffiti with everyone he meets along the way.
"My life has been filled with many drawbacks and challenges all of which have made me who and what i am today, so i know that even the most painful and trying of times can can pave the way to the happiest.  Hip Hop did truly save my life. Hip Hop taught me how to learn, connect and communicate with the world around me and relate with others who felt the same love for the artforms that i did. Through learning these artforms and the help of friends, i have been able to follow my dreams and become a professional artist and though in reality it is way more work than any regular job, i get to do what i love and i wouldn't trade it for anything. " -WISER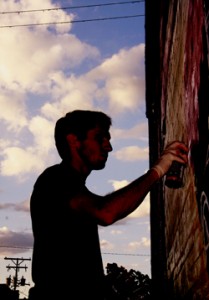 Lemon
 (Co-Founder/Creativity Director) – Living in Denver for the past 10 years and training alongside Wiser in the aerosol arts, Lemon exhibits his style of creativity in many ways.  Often looking at the world through a lens gives him a unique view of the world of graffiti. He applies this observational skill to his art and enjoys sharing it with the world. Not only able to keep up with the pace when painting walls, Lemon is a master photographer,Videographer and idea implementation guru constantly looked to by artists as a source of creative direction.
"My designs are a reflection of the inspirational people I work around and will continue to grow as I move forward on my artistic journey". – Lemon